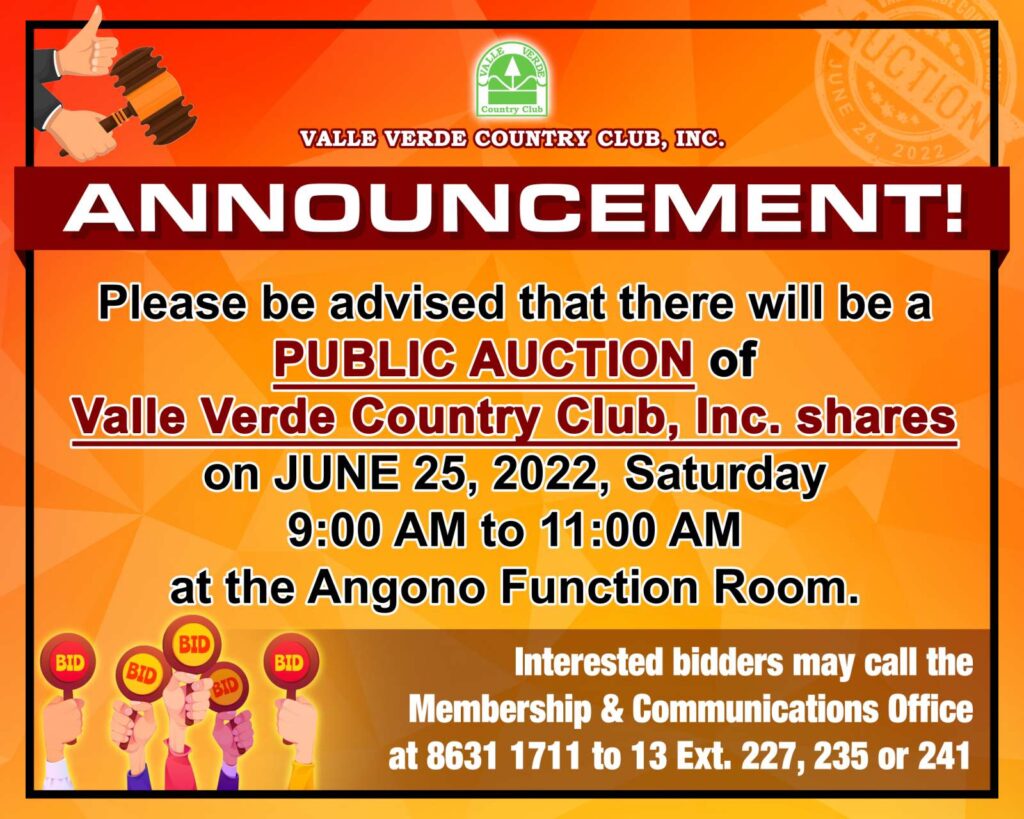 NOTICE OF AUCTION
Notice is hereby given that the Membership & Auction Committee will conduct a public auction of shares on June 25, 2022, 9:00AM at the Angono Room.
Please secure and fill-up the bid form and submit the sealed bid to the Membership Office together with the 10% of the minimum bid price in Cash or Manager's Check.
The minimum bid price is PHP 600,000.00 for Regular Proprietary share
.
Cut-off time in the submission of sealed bids and bid bond is 30 minutes before the auction proper.
For the winning bidders, bid must be paid in full within seventy-two (72) hours from auction date. Failure to do so will subject their bid to cancellation and forfeiture of their bid bond.
The cash/manager's checks of the unsuccessful bidders shall be returned after the announcement of the winners.
The auction of shares shall be conducted under the rules provided in the Club's By-Laws and as promulgated by the Board of Directors.
Please call the Membership and Communications Office at 8631-1711 to 13 Ext. 227/235 for more details.
MEMBERSHIP & AUCTION COMMITTEE
By:
ATTY. REY NATHANIEL IFURUNG
CHAIRMAN, Membership & Auction Committee
Pasig City, Philippines